Moscow:
The whole world is worried about the security of the Zaporizhzhya nuclear power plant in the midst of the Russo-Ukraine war. Both countries have accused each other of firing at this nuclear plant. The International Atomic Energy Agency has warned that the entire region could face a nuclear disaster if the two countries do not show restraint. Meanwhile, the Russian Defense Ministry warned that Ukraine was preparing for a false flag operation on the Zaporizhzhya nuclear power plant during the visit of UN chief Antonio Guterres to Kyiv. The Ukrainian army has chosen Friday for this work. The Russian Defense Ministry has also published a map showing the possible consequences of the explosion at the Zaporizhzhya nuclear power plant. It has been told that if this nuclear plant explodes, then how big will be the scope of destruction and which countries will be affected by it.
Nuclear radiation can cause destruction in these countries
The Russian Defense Ministry said that according to forecasts, if an accident occurs at the Zaporizhzhya nuclear power plant, radioactive substances will hit Poland, Germany and Slovakia. The report also warned that if even one reactor of a nuclear power plant leaked 25 percent of the radioactive material, the whole of Scandinavia would be affected by it. Scandinavia is a region in Northern Europe, which includes countries such as Denmark, Norway, and Sweden.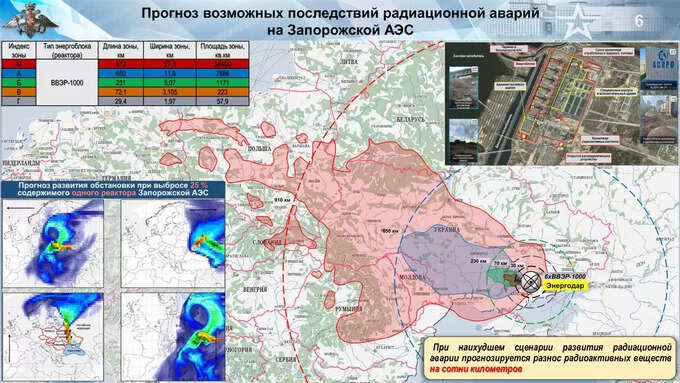 If diesel generator and mobile pump stop working then…
The Defense Ministry said in its forecast that the reactors would overheat if the Zaporizhzhya Nuclear Power Plant's standby diesel generators and mobile pumps stop working in an emergency. This can lead to a massive explosion and radioactive material will start leaking into the air. Their quantity will be so much that they will cover an area of ​​hundreds of kilometers. This can lead to mass migration of population from this area. This would have more disastrous consequences than the energy crisis in Europe.
Russia told the motive of Ukraine's attack on nuclear plant
According to the Russian Defense Ministry, Kyiv's provocation at the Zaporizhzhya nuclear power plant is aimed at the evacuation of an area of ​​up to 18 miles (30 kilometres). This would allow Ukraine to deploy international forces in the region and accuse Russia of nuclear terrorism. The head of radiation, chemical and biological defense of the Russian Armed Forces, General Igor Kirillov, said on Thursday that the ultimate goal of the provocation is the creation of an unmanned zone of up to 30 kilometers. This would allow Ukraine to accuse Russia of spreading nuclear terrorism and deploy international forces and foreign observers.

Nuclear Disaster Warning: What will happen if the Zaporizhzhya Nuclear Power Plant in Ukraine explodes? Will there be destruction or will people be saved?
Where is the Zaporizhzhya Nuclear Power Plant
The Zaporizhzhya Nuclear Power Plant is located on the banks of the Dnieper River in Ksheni Ukraine. It is located approximately 550 km southeast of Ukraine's capital Kyiv and about 525 km south of Chernobyl. The Zaporizhzhya plant is located about 200 km (125 mi) from Crimea, which Russia annexed in 2014. Zaporizhzhya is the largest in Europe and one of the 10 largest nuclear power plants in the world. It is the only producer of more than half of the total electricity generated from nuclear power in Ukraine. The total capacity of this plant is about 6,000 MW of electricity generation, which is enough to supply electricity to about four million households.
,
Find our other website for you and your needs
Kashtee A shayari,Jokes,Heath,News and Blog website.
Your GPL A Digitsl product website
Amazdeel Amazone affiliated product website.
Job Portal A Job website
Indoreetalk Hindi News website
know24news A auto news website in english and hindi.
Q & Answer website A website for any query and question.
Quotes A Christmas Quotes.
New Year QuotesNew Year Quotes
Cricket News website A website for cricket score online and upcoming matches.
Government job A Government job announcement portal.
Gaming Information Website A website for Gaming lover.